News and notices
TUESDAY BOOK CLUB - name change
We have decided to change our name from 'Tuesday Book Club' to 'Books on Tuesday'.
We hope that this makes us easier to find on the Groups List.
Posted on 20 November 2019
DONATION TO NW AIR AMBULANCE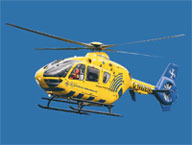 South Lakes U3A recently made a donation of £100 to North West Air Ambulance following charity box collections made at monthly meetings.
Posted on 6 November 2019
KENDAL WALKING FESTIVAL
Kendal Walking Festival - Friday 8th May to Monday 11th May 2020
Web site is opening for bookings. Several SLU3A members are leading walks.
An opportunity for members with family and friends who would like to participate to make arrangements to coincide with the event.
Posted on 6 November 2019
LEARNING TO BE RETIRED
This course isn't only intended for those new to retirement but also for anyone who has been retired for while and wishes to reflect and review. Retirement is not just a phase of life that continues exactly the same, from beginning to end. Within it we all experience changes. Sometimes we can benefit from reflecting and reconsidering our future options. As members of the U3A we know that there is always more to learn about any topic.
It is a structured course, with 'homework' between the sessions. It is focusing on each of us as individuals and is participatory. The course has been written by two retired academics Julia South and Carole Ellis (Sheffield and Bromley U3A). They have now offered it to other U3As, so it is also being piloted in other branches. See the Course Outline
The first course has now started and runs from 11th October to 22nd November. There will be a repeat of the course in Feb/March 2020, depending on numbers. . Anyone interested please contact us on slu3alearningtoberetired@hotmail.com
Posted on 10 October 2019
NEW U3A CENTRE IN KIRKBY LONSDALE?
Chairman Bob Wells writes: At our October committee meeting we celebrated the report that South Lakes U3A membership now exceeds 1500. We also discussed the problems that come with ever-increasing numbers and interest groups with waiting lists. It was noted that there is no U3A in Kirkby Lonsdale and that 80 of our members live in the LA6 postcode region. This led to the obvious question: could a new U3A be formed in Kirkby Lonsdale?

The answer is a very definite yes! We were named South Lakes U3A before there were other U3As in the region and we would be very pleased to assist further growth of the U3A movement. If any member would like to discuss informally what might be involved please approach a member of the Committee.
Posted on 20 October 2019
25th ANNIVERSARY TREE
In January last year, we planted an oak tree at Greenside in Kendal to commemorate our 25th anniversary. You will be pleased to know that it is thriving and is showing lovely autumn colours.
Thanks to John Mounsey for the photograph. Click image for larger version.
More photos on the Photos page.
Posted on 19 October 2019
PROPOSED NEW GROUP - CONTEMPORARY HISTORY AND POLITICS
The focus of the group would be discussion of books on contemporary historical and political issues, both global and domestic. Members would take it in turn to select a book, which others could then read before the next meeting. The person choosing the text would then introduce the book and its main ideas, and lead a discussion. Meetings might be monthly, at a venue to be agreed.
If you think you'd be interested in establishing such a group please contact Ed Mason.
Posted on 17 October 2019
VOLUNTEER NEEDED!
After many years of sterling service, Malcolm Booker has resigned as Equipment Officer for SLU3A at Abbot Hall Social Centre and we are now looking for a volunteer to replace him. The post involves helping SLU3A coordinators use the laptop and audio-visual equipment at the Hall. Malcolm (Tel: 01539 732871) has kindly offered to discuss the duties with any potential applicant. Please contact any member of the Committee if you might be able and willing to help - or use the Contact US page.
Posted on 24 September 2019
FIRST AID COURSES - UPDATE
Spaces on our six First Aid Courses are selling out fast. For those who may be interested but who haven't yet committed, we have the following One Day Courses available. By Special arrangement between your Committee and 'The Red Cross' and 'Lakes Medics' they are offered to SLU3A Members and their friends at half the normal standard charges. We'll be sold out within the next few days so we hope you will agree with us that this is an opportunity too good to miss!
LAKES MEDICS BASIC FIRST AID COURSE for 14 Members at Abbot Hall Social Centre (main room), Kendal, selected Tuesdays 10am-4pm. £23.
Tuesday 17 September. 1 place available.
Tuesday 29 October. 5 places available.
RED CROSS BASIC FIRST AID COURSE for 15 Members at Stone Cross Manor Hotel, Kendal (includes light lunch and morning/afternoon coffee, etc). Selected Mondays 10am-4pm. £32.
Monday 28 October. 2 places available
Monday 18 November. 3 places available
We much regret that our other two Courses in October and November are already fully booked.
Contact Donald Potter to book your place: email donaldspotter@icloud.com or phone 015395 64268 (leave a message).
Posted on 13 September 2019
GARDENS THURSDAY - CLOSING
Please note that the Garden Thursday group is closing. The coordinator, Janet Galloway has sent her final message.....
I'm sorry for the late announcement but I am tendering my resignation of co-ordinator for my garden group. I've been in charge of it for 11 years and have tried on a number of occasions to get someone to take over the group, without any success.
I've enjoyed the job very much and we have had some good visits, talks and gardening experiences and I am sad to be giving up, but numbers have dwindled this year and we do tend to lose members to the walking groups so Thursday is not the best day.
Anybody wishing to resurrect Thursday Gardeners (or start any new group) should contact Hilary.
Posted on 28 August 2019
NW REGION U3A STUDY DAY
The next study day will be 'Tutankhamun, Treasures of the Golden Pharaoh'
It will be held at Wigan, on 4 December 2019.
Places are strictly limited due to room size so early booking is recommended. Details and booking
Posted on 23 July 2019